Tribute to the SBT
The McGuinty Liberals have banned Staffordshire Bull Terriers, arguably one of the best if not THE best breeds on the planet. In response we have started a "tribute" to the Staffords that we have bred or known over the years.

Remembering Lola
(the story that took 16 months to write)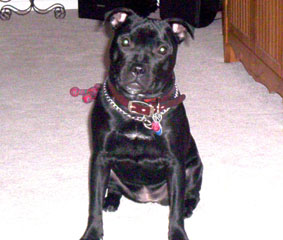 Stella's Story (our first tribute).
If you would like to contribute a story please email us - if you happen to have a cross-bred dog or another affected breed that is okay too. We realize that amazing dogs exist in ALL of the bully breeds ... it just happens that our personal focus is the Staffordshire Bull Terrier.
Julie King
nVision Reg'd