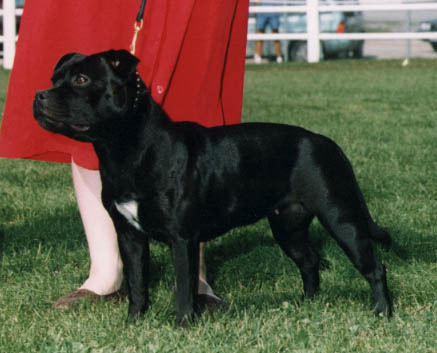 A typy stafford and excellent mover, "Zoe" epitomizes what we are aiming for with our breeding program, and we have been very successful with her in her limited show career.
In 2000 she went from the classes to win the Canadian National Specialty Show under Allan Hedges. Two years later, at the next Canadian specialty, she placed Best of Opposite (to her half-brother "Jake" who went BISS) under Claire Lee.
Alan Hedges on Zoe's 2000 National Specialty win:
"This bitch came, saw and conquered. BIS with a bit in hand. Absolutely first class all round. She has a first class head, short, strong square muzzle, deep stop, dark eye, neat ears. She has a strong neck, very good front. She is shapely behind the collar, moved well and handled as well as anything in the show. Winning as she did with a bit in hand, she is, I believe, a bitch who could hold her own anywhere in the world. Congratulations to her owners. She's one to be proud of."
Zoe was then bred to Am. Ch. Sonshine's Mellow Man Ace in 2002 (owned by Isaias Gonzalez) and Am. Ch. Diesel Proof Pullera (owned by George Urbanski) in 2003. It is not only rewarding to be able to use such excellent stud dogs, but also to work with these wonderful people. Pictures from the 2002 litter can be seen in our online gallery.
Already Jazz, a young female from the 2002 litter has made her mark in the show ring, having been awarded a group 2 on her first weekend out at the age of 11 months.
"Ransom" was imported from Harry and Mary Coble (UK) by nVision and Clandara in 1999. He has made a strong impact on the breed in Canada since his arrival, primarily through the outstanding children he has produced.
At the first specialty show in Canada after his arrival, Ransom's daughter Zoe went BISS with Ransom himself placing BOS. Two years later (in Canada specialties shows are held every 2 years) his son Jake (Ch. Sharkira's Quarterback) went BISS with Zoe placing BOS, another Ransom daugher Ellie placing as best puppy and Ransom winning the stud dog class.
Ransom's son Jake was campaigned extensively in Canada last year, breaking a number of breed records including a Best in Show win. (Congratulations to Jake, who is owned by Ed and Linda Lehner and was bred by Tracy Dinely!)