Our Staffords
Click on a dog's name in the chart below to view pedigrees and pictures of some of our outstanding boys girls.
Our line began with Ch. Galo's Dark Side of the Moon "Pinga", a lovely black brindle bitch who had a strong head and moved well. We have always been partial to the girls, and continued our next generation with Ch. nVision Lolapolooza.
Pinga was a Poog granddaughter, so our attention soon turned to the Eastaff line in the UK as we looked at where we wanted to take our breeding program. After discussions with Joyce Shorrocks we were introduced to Harry and Mary Coble, and ultimately imported Surestaff Qualitaz "Ransom".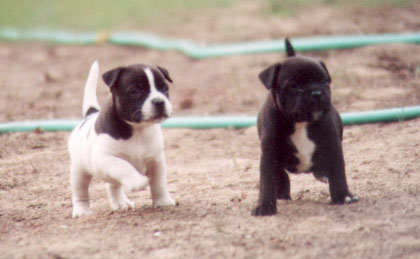 Two boys, 4 weeks of age, nVision Ready to Rumble (left) and nVision Might of Gideon (right).
We have carefully planned 3 breedings for nVision Moonstruck Zoe to build on the quality in her pedigree. The first breeding, which took place in 2002, was to Am. Ch. Sonshine's Mellow Man Ace, owned by Isaias Gonzalez in San Diego, CA. Five lovely pups resulted, including nVision Star Gazer and nVision Might of Gideon, who can be seen on their individual pages.
In 2003 Zoe was bred to Am. Ch. Diesel Proof Pullera, owned by George Urbanski in Chicago, OH. Again, we had 5 lovely pups, and will add photos as soon as we get some! From that litter nVision Samurai has gone to live in the Chicago area, and in the spring of 2004 he won the sweeps at the regional specialty show in Chicago.
In 2004 Zoe was bred to Tykabul Vantage Point, a lovely Australian import bred by Joy and owned by Ed and Linda Lehner.
This is also the first year that nVision Star Gazer (Jazz) will have a litter, and she has been bred to Ch. Clandara's Make My Day (Madiba). This represents a line breeding on our foundation dogs as well as the Eastaff lines, Eastaff Guardian in particular, as Madiba is sired by Am. Ch. Mirkwood's Extreme Obsession, a Black Ace grandson.